Test case examples

Here you can read about our cases and companies that already have tested the 5G environment.
If your organisation want to use the 5G Innovation Hub North testbed as well, contact us.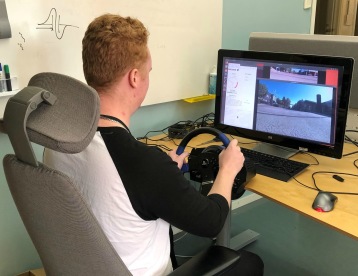 As part of the test environment 5G Innovation Hub North, students from Luleå University of Technology developed an RC car with 5G capacity at Ericsson Research in Luleå.

Platform for 5G development
The students who developed the RC car, Martin Blaszczyk and Morgan Johansson, did this during their summer internship at Ericsson Research. The goal of the project was to have a modular, inexpensive and secure platform for students to develop applications for the new 5G test site and give them access to cutting-edge communication technology in an accessible and fun way.

Real-time performance evaluation for 5G networks
With the use of the RC car, their is the opportunity to evaluate real-time performance of a 5G network with demanding video, or other media. It is traffic that places high demands on both bitrate and latency. The relatively high speed of the RC car makes it possible to test the limits of different positioning techniques. This also provides the opportunity to display various 5G technologies such as QoS (Service of Quality) and slicing and beam forming. The RC car will also be used to evaluate performance and evaluate the effects of various improvements such as QoS and handover optimization in 5G installation in mines, within the framework of the EU project SIMS.

The car's equipment
The students Martin and Morgan rebuilt and equipped the car for remote control over 5G New Radio (NR). The car has three cameras, front, back and above, that stream live video to the person who controls the car over the network. It also has a GPS to get the car's position and speed in real time. The built-in computer is an NVIDIA Jetson Nano card running Ubuntu where the Robotic Operating System (ROS) is implemented to take care of the control of the car.

Experimental platform for research experiments
The small size of the RC car makes it possible to use as an experimental platform for various research experiments for the industry. Although the car's scale size of 1:10 can prevent it from being used in the most demanding environments such as deep water, thick clay, etc., it can still be a useful tool for evaluating use cases in similar environments. Future work that could be carried out with the RC car as a testing platform is autonomous driving with machine vision. The high speed connection, which comes with 5G NR, makes it possible to do some real-time processing in the RC car and some processing in an edge cloud.